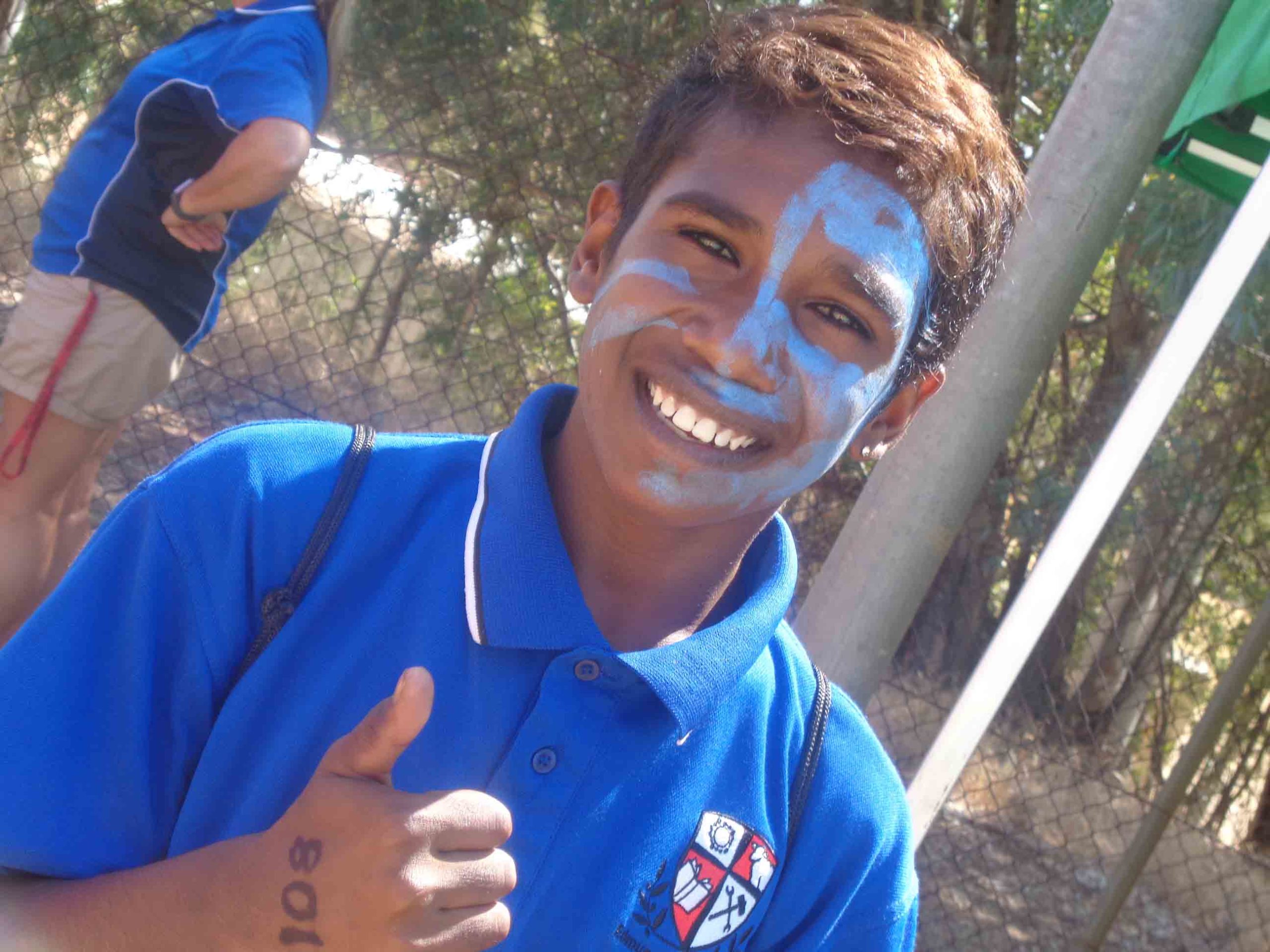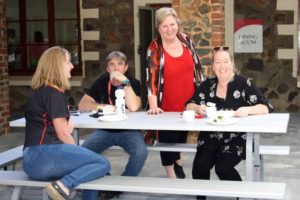 Dear Parents, Guardians, Friends and Students
COVID 19
CEWA, the Department of Education and AISWA, who are responsible for all schools in our state, have been working together since the start of the outbreak during the school holidays to provide information to schools based on advice from the Department of Health. We are acting on advice received daily from CEWA to take any necessary precautions for schools and our staff. All schools have been giving advice to staff, parents and students based on information from the Government of WA.
We have put in place a team at the College who will continue to monitor the situation. One of the things we have done is to ask all teachers to remind their students about the correct personal hygiene procedures and that we have adequate soap or hand gel available for the students to use. Sr Celia, our maintenance team and cleaners are working together to ensure this happens.
If a student or staff member does have COVID 19 symptoms and has had possible exposure to the virus, they have been instructed to not attend school or work until they have medical confirmation that they do not have the virus. Staff must notify me if this is the case while they have been at school. We currently have no staff or students in this above situation, if there is any change to this I would contact the public health authorities and act immediately on any advice given to the College, which would include parents being notified.
If you have any concerns please do not hesitate to contact the College and speak to either Sr Celia, Miss Paula or myself.
STUDENT BEHAVIOUR
I would like to share with you an article that I wrote in 2015. The words are still true today. I have updated some of the information to reflect today's position in terms of vision, mission and some other facts that have changed.
"At times staff in schools are asked to have challenging conversations with students and sometimes with their parents or guardians. These conversations always come from a position of trying to do the best for each student in our care, whether that be around behaviour, academic results or concern for their health and well-being. Students' behaviours not only impact on themselves but on others around them. For boarding students this means that while they are in our care anything that they do at school or while out on a supervised excursion can also impact on themselves and our community.
Our College Vision Statement speaks of how we hope to inspire each student:
Edmund Rice College is faithful to the Gospel of Jesus Christ and the tradition of Blessed Edmund Rice. Together, we seek to inspire each person to be optimistic, hope-filled and resilient in a dynamic rural environment, so they become proactive, young people who will transform their communities.
Our Mission Statement speaks of our aim "To enable students to raise their voices and become responsible contributors to their communities, the college aims to nurture their faith and spiritualities throughout their learning journeys, supporting them in their development of knowledge, skills, understanding and well-being.
Edmund Rice College is committed to engaging students in safe, innovative and practical experiences which motivate and inspire them to personal excellence.
Part of becoming a responsible contributor to our communities means that students need to own their own behaviours. Some of our students struggle more than others to take 'responsibility' for their own actions which do impact on themselves, in the first instance, and on others around them because of the fall-out or ramifications of their behaviour.
The welfare and safety of our students is our prime concern and any student who puts another student in danger will jeopardise their enrolment here.
I will continue to involve the Police in conversations which relate to drugs in any form. The support which we have received from the men and women at Gingin Police Station has been exemplary. They have spent many hours alongside our senior members of staff interviewing students. I am eternally grateful for their ongoing support.
There is a mentality among some teenagers that they are 'bullet proof' and the things they do will not affect them in the long run. Those of us who are parents may have seen this in our own children and their friends. It is important to talk to our young people. The difficult conversation is what will make them think about what they are doing, consider their long term health and well-being and the affect this may have on those around them. As a school we will continue to have these conversations with your sons and daughters – even when they don't want to listen. It is important that we all keep talking.
My vision for Edmund Rice College is that we are a lighthouse school in this area and for boarding students across the state. I want the College to be the school of choice for all of our neighbours who want a hands-on education based within strong pastoral care for their children. We need to remind ourselves constantly as a community of our Core Values of:
Excellence

Respect

Tolerance

Honesty
We are a school to be proud of, and I am reminded daily of this in my contact with the students whether it be in the classroom or out in the yard. I love these young men and women and I love this place. Thank you to each and every parent for their ongoing support and commitment to the College. Let's all continue our partnership to make Edmund Rice College the best that it can be.
I will send home to all parents a copy of our Drug Policy next week.
God Bless,
Marie Barton
Principal
Prayer

Dear God, I need you today.
I acknowledge I cannot do all.
I depend on you to help me get
where I need to go.  Help me not
to get discouraged. I know your
ways are perfect.  Bless me
with more faith and hope.

Amen
Welcome to New Staff Members for 2020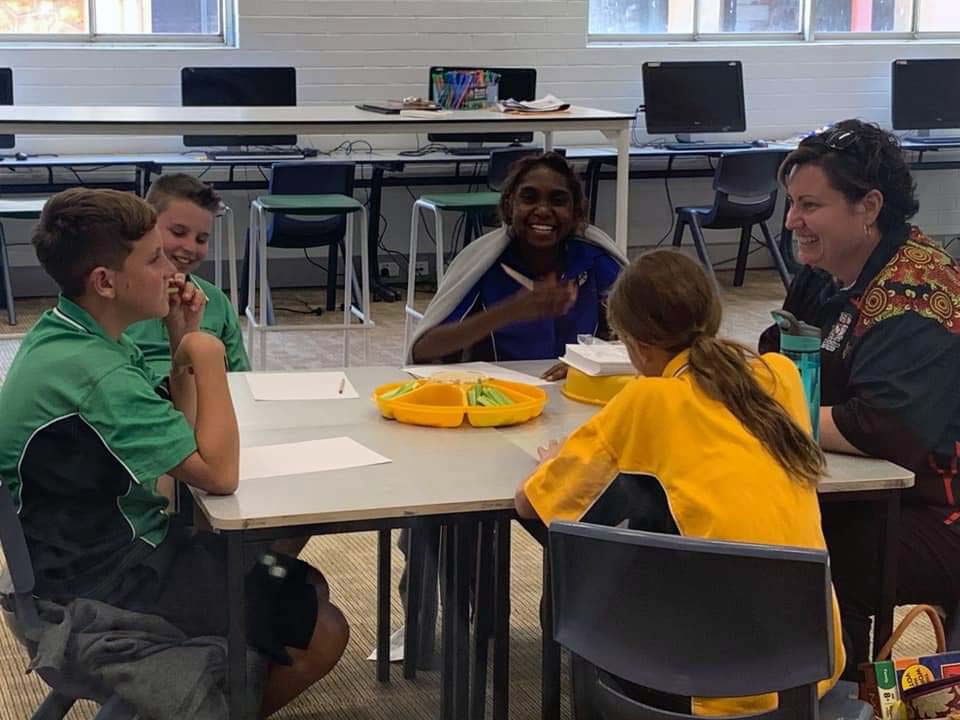 My name is Paige Ludwig and I am teaching Year 8 and Literacy Support this year.  I have been a teacher since 2003, and have enjoyed teaching various roles from Early Childhood right through to young adults, both in Perth, and regional and remote WA.  My most important role is as a mother, and I am blessed to be Mum to four sons and three daughters.  I am passionate about helping people learn how to read and spell, especially those who have never been able to master these skills before.  I am excited to be part of Edmund Rice College and look forward to an exciting year ahead.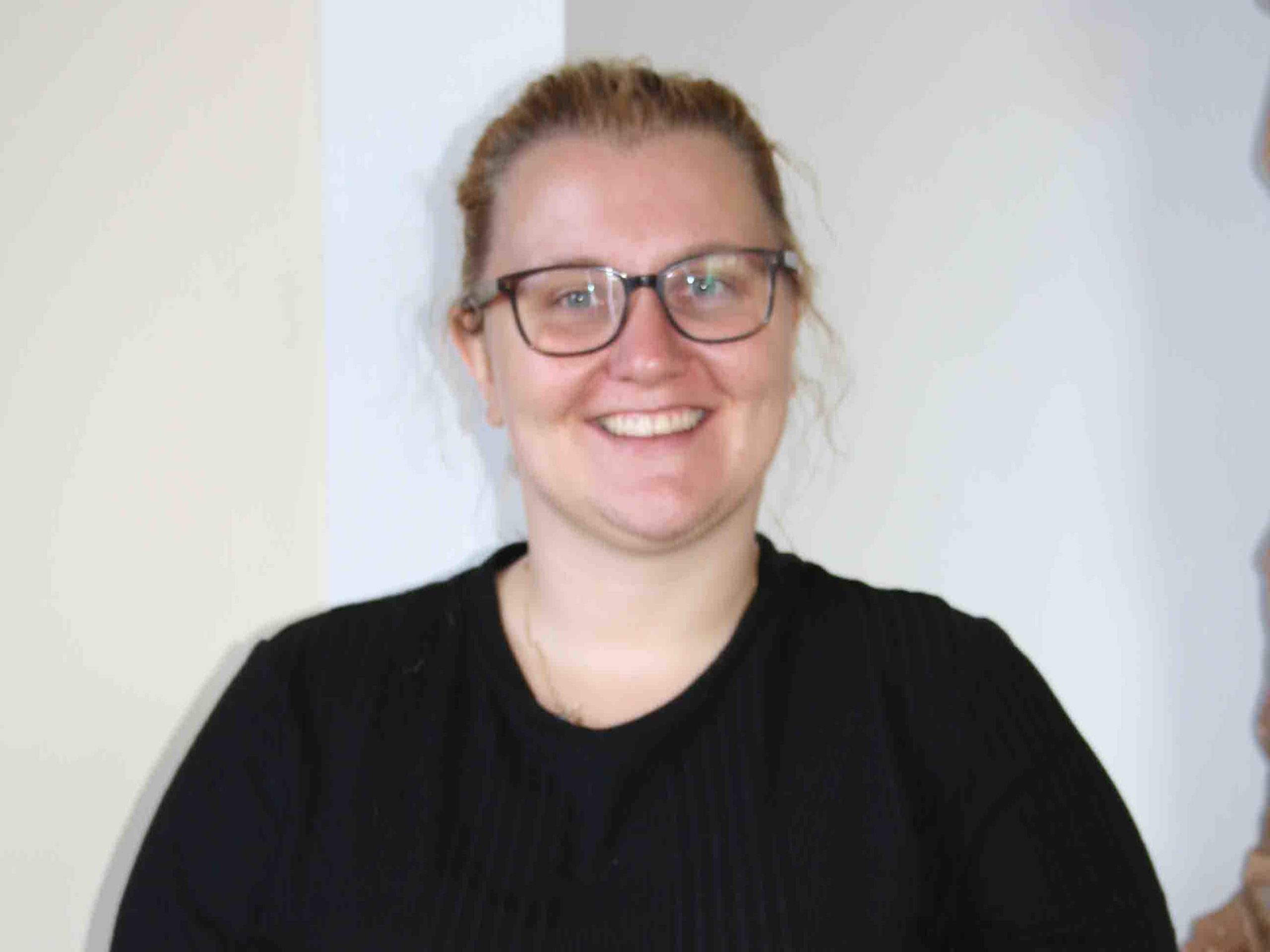 My name is Natasha Hicks and I recently moved to Bindoon from Adelaide.
I have been a boarding supervisor for almost 4 years. My favourite thing about working in boarding is building relationships with the students and getting to know their stories.  One of my favourite things to do on a weekend is to go explore, I love seeing new things and being immersed in nature.
"Continue to value and appreciate the women in your lives
and also set the example for some men
who are not seeing it that same way"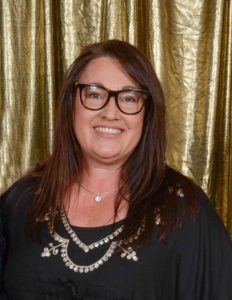 When presenting to the students a regular part of my vocabulary is the topic of Respect – one of our core values. I genuinely believe that if everyone displayed respect in their actions and conversations we all would live in a much happier, forgiving and kinder world. Over the weekend there was much to ponder from the media stimulus. The media portray such negative and scare mongering bleak picture of the world that people have gone crazy. Seriously, I read and watched the video clip of fights over toilet paper and just shook my head – what has happened to humanity and the basic ideal of taking only what you need. However, while the media focused on the worldwide epidemic of the virus, share markets crashing and our economy going into recession, I grabbed onto the inspiring and uplifting stories about women making a difference to the world. Last Sunday was International Women's Day 2020 on 8 March which followed the theme Each for Equal. I believe creating an awareness and celebrating this day is imperative as it inspires individuals to actively choose to challenge stereotypes, fight bias, broaden perceptions, improve situations and celebrate women's achievements. This worldwide focus encourages women to leverage their strengths and identify limiting behaviours, and gain the confidence and skills to lead, influence, negotiate and conduct courageous conversations that are relevant today. The focus for our Formal Assembly on Monday focused on International Women's Day. When we talk about Respect and Pride, equality and discrimination must be part of our conversations.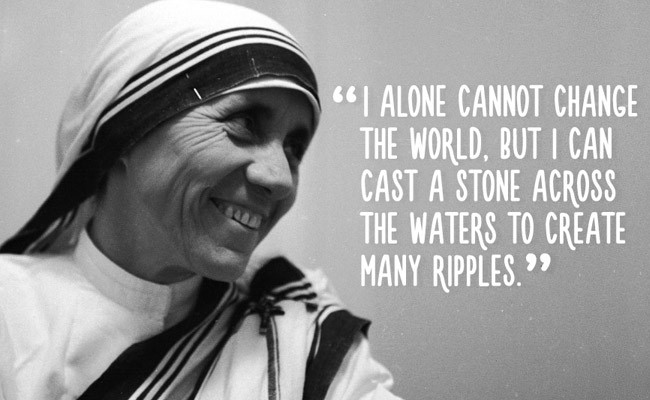 Generation Equality is a call to action to join forces across generations, to create a world where every girl and woman has equal opportunities to fulfil their full potential. Equal access to education and income are central to levelling the playing field for women around the world.
Half a billion of the world's illiterate adults are women. This trend has not changed in 20 years. UN Women are actively working to change that. I really loved the quote from the Duchess of Sussex – I thought it was powerful and provided a strong and proactive message for our young men, "continue to value and appreciate the women in your lives and also set the example for some men who are not seeing it that same way".
During the assembly we had students' awards and called to the front were many of our girls. These awards are for a range of things like making changes, helping peers, volunteering to be a part of a group, working through school problems with persistence and determination, showing great leadership, taking on challenges, being kind and thinking of others.
Seeing our young ladies stand out the front of the Assembly made me smile. These young ladies represented the girls of our student body.  Standing alongside of me and sitting before me I was seeing strong, capable and proud young women who will go on to make the world a better place – one small step at a time. I told them how much they have to offer, that they are wonderful, beautiful, intelligent and inspiring. I acknowledged my female colleagues and the amazing work they do everyday for our students. I learn so much from them about my weaknesses and how to do things better. I observe in awe their patience and kindness that they give so generously to our students, the energy and personal time they give to prepare and collate interesting and engaging learning opportunities. Most of all I witness their love and compassion they have for each student. I thanked them for everything they teach me every day. To our girls – I learn also from them. They are amazing storytellers and I learn so much about their culture and home life from our chats. I enjoy talking about the music they listen too and hearing about their hopes and dreams for when they leave school. I admire their resilience and their ability to view life from a different lens. I enjoy just sitting quietly alongside them while they contemplate life and why things happen as they do. I cherish the moments when I see them smile and laugh at something simple or observe as them help and support each other in times of need. I think our youth are so wonderful and I know the future is in great hands.
Friday 13th March, we are celebrating as group of strong, inspirational and beautiful women both young, old and wise by linking together female staff and students to share High Tea in the dining hall. I am really looking forward to that. Thanks to Geo and his staff and Miss Fleur for preparing the food and dining hall to make our morning tea special.
Paula Bacchiella
Deputy Principal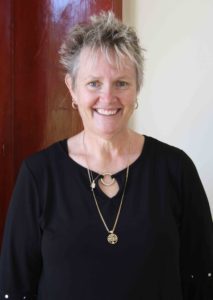 On Wednesday 26 February the College celebrated our Opening Mass on the most important Day in the Church's calendar- Ash Wednesday. The Aboriginal Catholic Ministry along with Father Sebastian joined us for this occasion and the students are to be commended on their participation and reverence during the service. A special thank you to Akira, Riley, Chloe, Alexis and Madison for the readings and offertory procession. I would also like to commend Connor on the amazing work he does with the sound system and the PowerPoint throughout the Mass.
Ash Wednesday Important Facts:
Ash Wednesday marks the start of the Lenten period leading up to Easter, when Christians believe Jesus was resurrected.
The ashes symbolize both death and repentance.
During this period, Christians show repentance and mourning for their sins, because they believe Christ died for them.
Ash Wednesday is a Christian holy day of prayer and fasting. … Ash Wednesday derives its name from the placing of repentance ashes on the foreheads of participants to either the words "Repent and believe in the Gospel" or "Remember that you are dust, and to dust you shall return."
During church services on Ash Wednesday, members of the clergy mark crosses on the foreheads of worshippers using ashes, or sprinkle ashes over their heads as a sign of repentance. The ashes, which are mixed with holy water or olive oil, are made by burning palm leaves from Palm Sunday of the year before.
Many Catholics also get ashes on their forehead on Ash Wednesday, a reminder of our mortality (often stated as, 'we are dust and to dust we shall return'). Catholics are encouraged to attend Mass on Ash Wednesday, however, Ash Wednesday is not a holy day of obligation.
Anne Brown
Religious Education Coordinator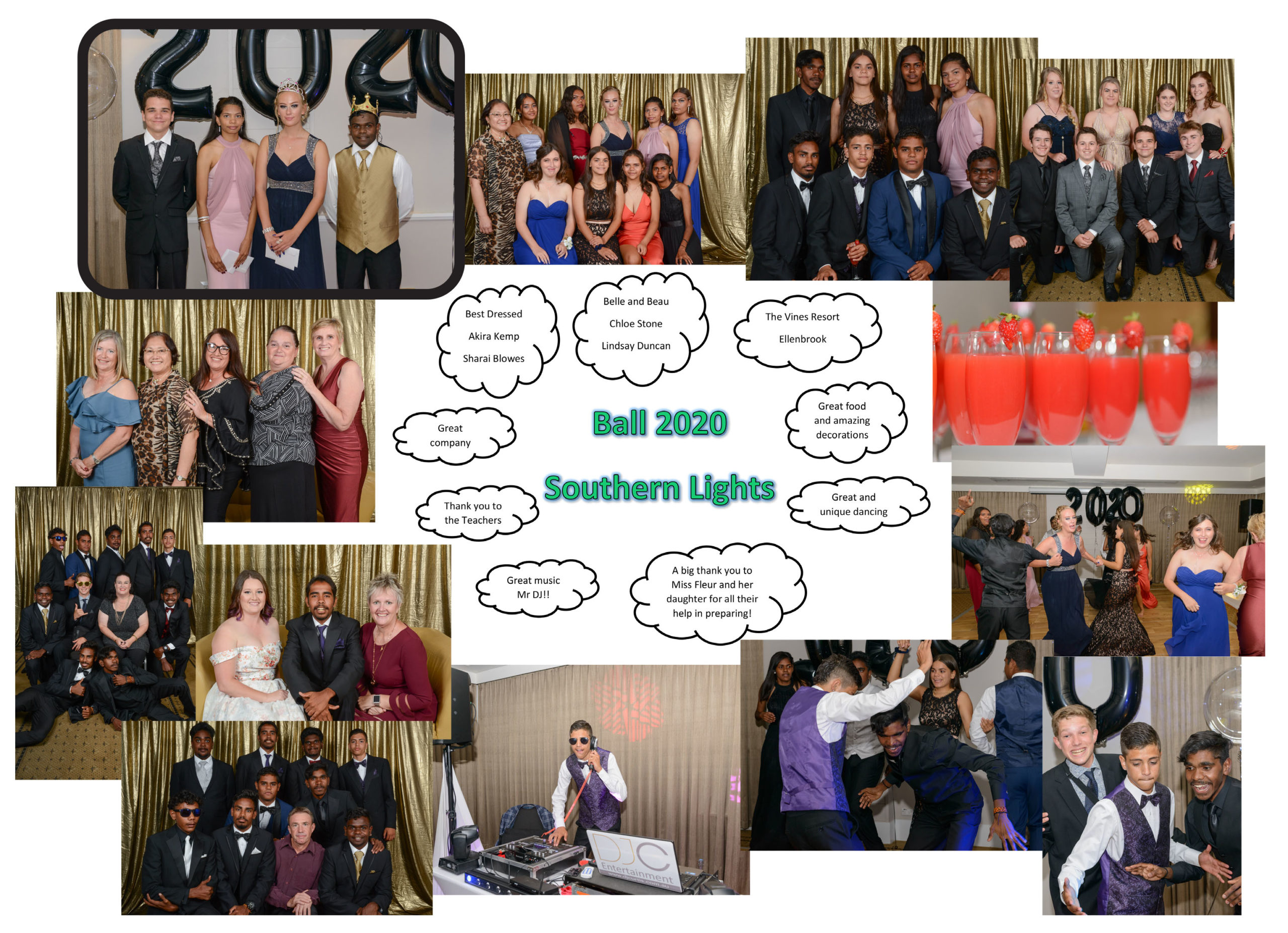 The Senior School Ball for 2020 was held on Friday 21st February at The Vines in Ellenbrook.  Students and staff enjoyed a wonderful evening of fantastic food, music and dancing.  Congratulations go to Akira Kemp and Sharai Blowes voted the Best Dressed on the night and Chloe Stone and Lindsay Duncan who took out the Belle and Beau of the Ball.
On March 10, the year 10 students had the opportunity to meet Paul Koch from the Gum Tree Apiary regarding the topic "honeybees" which we are covering this term for Agricultural Science. Students had the privilege of wearing the bee protective suit and watched Paul setting the school beehives on the school farm. Some students were excited to hold the drone while others enjoyed the honeycomb that Paul brought for us.  Overall, the year 10 class had a great incursion.
Salonee Poongavanon
Teaching Staff
Waterford Takes Out The Interhouse Swimming Carnival
Above:  The sun shone on the Interhouse Swimming Carnival.  Students participated enthusiastically in the many events on the day.
What a swimming carnival! I was told after the carnival that it was the first one in years to have that amount of participation! A massive congratulations to the students for that one.
This was my first swimming carnival at the College and one of the best I've been a part of for a number of years. It could not have been such a success without the help of our wonderful College staff and a really big thank you to the year 11 and 12 cert II Sport and Rec students for assisting in running the carnival and doing an amazing job.
Waterford kept up the same attitude they had in the athletics carnival and just had a red hot crack at every event putting us well into the lead at an early stage and taking out the overall champions at the end of the day.
Now we move onto our ACC competition and see how we go! Well done to all our students again for an outstanding day.
Scott Smith
Teaching Staff
This year's Equine students have started the year as an awesome group. They have tried anything that they have been asked to do, they are a very supportive group of each other and very kind and caring. Not all of the students are experienced with horses, they are taking every Equine class as a new challenge to be better with the horses and better about themselves.
The students have worked as a team doing the daily routines of feeding and checking all of the horses. They have attended to the injured horses that we have at the College, this is unfortunate but at the same time, it gives the students the opportunity to learn about many different types of injuries and wounds horses get from time to time.
The students brought some of the horses in from the big paddocks at the beginning of term to start preparing the horses for the Appaloosa and Paint State Show that is held on the last weekend of February. The more experienced students attend this show at this time of the school year. The students have had to learn about grooming, washing, lunging and leading horses ready for this horse show.
In the first few weeks of term the students learnt about the different horses we have at the College, I learnt more about the student's ability with horses. As I was getting to know the students better, I was able to try to team up a horse and student partnership. The students were introduced to their selected horse, learnt to brush, saddle and bridle their horse. They then had the opportunity to have a ride on their horse, some students where led around the arena others just got to sit on a horse and gain their confidence. The students that have been in Equine for a while got to ride their horses around on their own after the horses having a big Christmas school holiday.
The students did a great job when we had the Farrier on February 27th where they organised catching all the horses from their different paddocks to bring up to our tie up area for the farrier to do the horses feet. On this day, they also wormed all of the horses and for some of the students it was a first time experience for them. The older students assisted the younger students while administering the worming paste. They then had to organise how to return all of the horses back to their paddocks in an order for the safety of the students and for the horses. The School Farrier mentioned how good this group of students were.
With the weather being warm in the afternoons, we have watched a very good DVD on Anatomy, Anatomy in Motion The Visible Horse. The students were very interested in this DVD, we discussed what we had watched and what they have seen and how this relates to our horses at the College and other horses outside of the College. We have more to cover in this unit over the next two school terms. The younger and newer students are starting on their first units and are showing enthusiasm in learning what is required to achieve the unit.
The students have been riding every week to improve their riding skills, the more experienced students are supporting the younger and less experienced students to improve their skills. We are working towards taking the less experienced students on a trail ride before the end of term.
We are looking forward to a visit from Kylie Meloury from Virbac where we will be learning about any up to date products and information to do with worming of horses.
The after school program has been supported by some day student's and the boarding students. Thank you to the parents who drive in to pick their children up. We have groomed and ridden when weather permits. This year on a Wednesday, I have had support from Ms Fleur with the students down at Equine. Ms Fleur has had experience with her own daughter who competes and also volunteers her time with the RDA in the Swan Valley.
Karen Nicoletto
Equine Coordinator
Boarding Report – Kirby Bentley & Nicky Winmar Football Carnival
What a tiring long weekend the boarders had at the Indigenous Football Carnivals – Nicky Winmar and Kirby Bentley. The College had many students participate this year and we had some girls and boys from Northam and Toodyay join our team as well. The games are played by regions, so we represented the Midlands region.
The girls played on Saturday from lunchtime onwards. They had 3 rounds to play and we won 2 and tied one, so we then had to play in the finals. This was the first time that we have made it to finals and everyone was excited. The game was played in good spirits but unfortunately the opposing team was just too strong for us. Three of our girls went on to play in the grand final for another team to make up numbers, and they won and got medals. The girls were absolute fantastic sports on the day, they really enjoyed playing in a large competition and showed their best sportsmanship and manners whilst on the field.
The boys played on Sunday. They had 4 rounds to play and were there all day. Unfortunately, the boys were outclassed in all but one game and they have a lot of team building to do, which they will get practice at playing for Toodyay next term. The boys never gave up and tried their best right up to home time. A big thank you to Miss Candice and Mr Brett for coaching the teams and to the families of the Northam and Toodyay kids for filling water bottles and helping out all day.
The boarders have Camp coming up next weekend and we are going to a new place – Camp Kelly in Dwellingup. It is going to be a different experience for everyone as we usually go to the coast but we will take a day trip into Mandurah and maybe do some fishing and crabbing along the foreshore. It is going to be another very tiring weekend.
Sam Jenner
Head of Boarding